The Internet of Things has attracted a lot of attention in Switzerland in recent years. The ability to monitor and manage objects makes it possible to arrive to data-driven decisions. Companies that use IoT to develop new business models and find ways to monetize unique IoT data are likely to enjoy more sustainable benefits, which goes beyond the technology stack of IoT.
The most advanced of the emerging business models in the IoT is based on 'servitization', i.e. switching from one-time selling of products to selling services. For software companies like Salesforce, Adobe or Apple, which successfully implemented this approach, this isn't anything new. In the future, this will also be the way to connect smart things. Providing ongoing services will add real customer value and, as shown in the image below, IoT-applications can be properly monetized over a longer period of time. As the IoT becomes increasingly sophisticated, the 'as a Service' business models are getting more complex due to multi-tenancy billing, cross charging to other accounts, usage-based charging billed to a third party, etc.. An emerging path to monetize the IoT is by empowering stakeholders in the IoT ecosystem and cultivating customer loyalty through a scalable, open, agile and flexible framework.
When companies choose one-off payment models, they can recover costs quickly. However, they have no way to continually monetize value e.g. new software features over time or continue the relationship with the customer. With a recurring or subscription business model companies can continue to monetize value delivered to the customers over the entire product lifecycle, leading to higher revenues and a stronger relationship with the customer.
The scope for connected smart things is enormous. Gartner predicts 20 billion connected devices by 2020. For this reason, any monetization solution for the IoT must be highly scalable, which almost inevitably means using a service-based model. Succeeding in the IoT field requires cooperation with various suppliers, as no single provider can cover the whole IoT value chain. To use new service-oriented business models, platforms must be multi-tenant because business models will be multi-sided, and data sharing between multiple parties is essential. That is why a platform's openness is going to be all-important. The Internet of Things is usually integrated into the broader business processes of different stakeholders. To add even more complexity, IoT business models are constantly evolving and changing. To secure sustainable, recurring revenues, systems and processes must be developed, integrated and improved in an agile manner. And different stakeholders in a respective ecosystem have different demands regarding the applied business models. This opens up endless possibilities and successful platforms must be able to manage them all.
A broad variety of companies are already using recurring business model patterns. The models suited for the IoT, as illustrated below, can be used individually or in combination to meet customer needs and to sustainably increase revenues.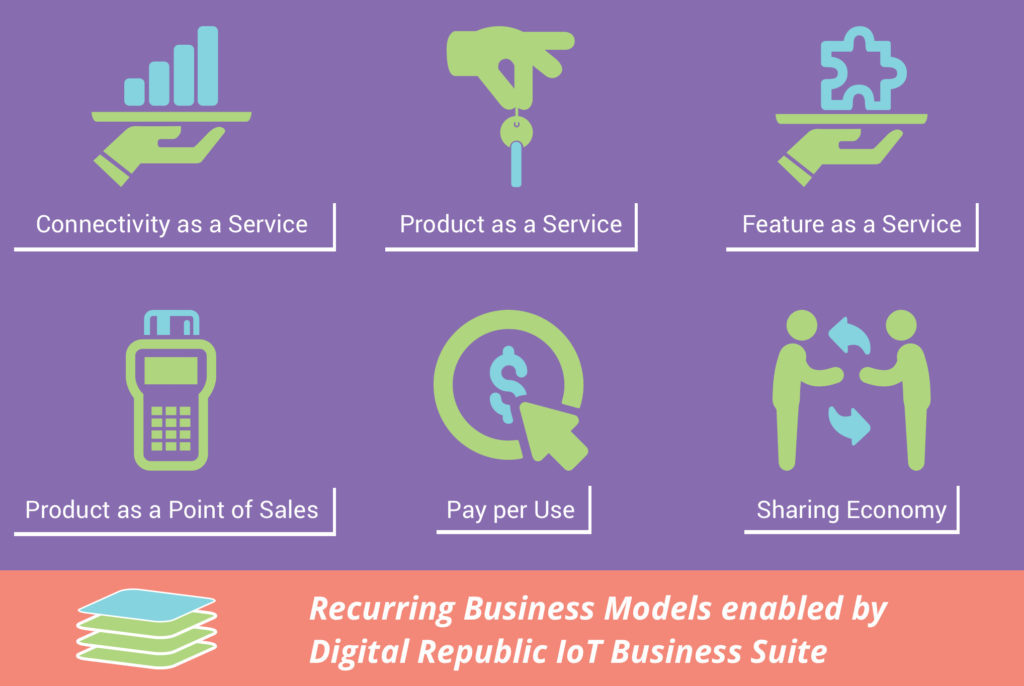 The example of Digitec Galaxus AG illustrates what this can mean in real life. The company has a broad portfolio of smart electronic devices, such as network cameras, hotspots, routers, speakers, GPS trackers and alarm systems. All items that, with the help of the internet and a SIM card, can be connected to each other to enhance and multiply their performance.
Digitec Galaxus is able to bundle Digitec branded IoT SIM cards with these devices. The SIM cards are shipped with the device and customers can easily and simultaneously manage all their SIMs and data subscriptions through a Digitec branded web portal. The company has succeeded the transition from one-time sale of devices to creating a recurring revenue from subscriptions.
Further subscription offerings such as Product-as-a-Service (leasing of devices) or usage-based insurance for gadgets are now just a stone's throw away. The foundation now exists for a broad service portfolio for private and business customers.
Digital Republic focuses on two main areas. To benefit from the Internet of Things, connectivity is key and it requires scalable and easy-to-use solutions. The ongoing digitalisation creates the need for machines and devices that communicate with each other swiftly, easily and effectively. Digital Republic is a BAKOM registered telecommunications service provider and a one-stop-shop for SIM cards and mobile connectivity.
The second core competency is the implementation of new subscription- and usage-based business models. According to Ali Soy, one of Digital Republic's founders: "Shifting to selling subscriptions is a major challenge for customers and their legacy IT systems. Subscriptions require new processes from CRM, provisioning, rating to billing as well as customer self-care. Our IoT Business Suite platform is able to deliver all the required components in one platform directly from the cloud. We help companies develop the new business model end-to-end, support with the business case, design the customer journey and plan all the processes needed. In the agile implementation phase, a dedicated team of developers and business engineers bring the solution to life in no time."
Digital Republic, founded in 2016 by IoT/M2M specialists Marco Arnold and Ali Soy. Without believing in traditional office structures, the young company can often be met in the 25hours Hotel on Langstrasse, Zurich where they coordinate their emerging business.
Article written by Marco Arnold, Co-founder & Managing director, Digital Republic